Welcome
Our Association is committed to an active leadership role promoting Simmental as a highly sought after, productive and efficient breed. We recognize the value of both purebred and Simmental and Simmental influenced cattle. Through continuous public awareness, we strive for increased acceptance by the producer and consumer markets resulting in a greater share of the beef production industry.
Our accountability to our membership includes financial prudence, fair and equal representation, support of the provincial 4-H program, and the encouragement and endorsement of the Alberta Young Canadian Simmental Association (AYCSA).
We pursue strategic partnership with the Canadian Simmental Association and the Regional Alberta Associations. We recognize their respective missions and work together to pursue emerging markets, anticipating industry trends, and satisfying future needs of the Simmental producer and beef consumer.
Simmental News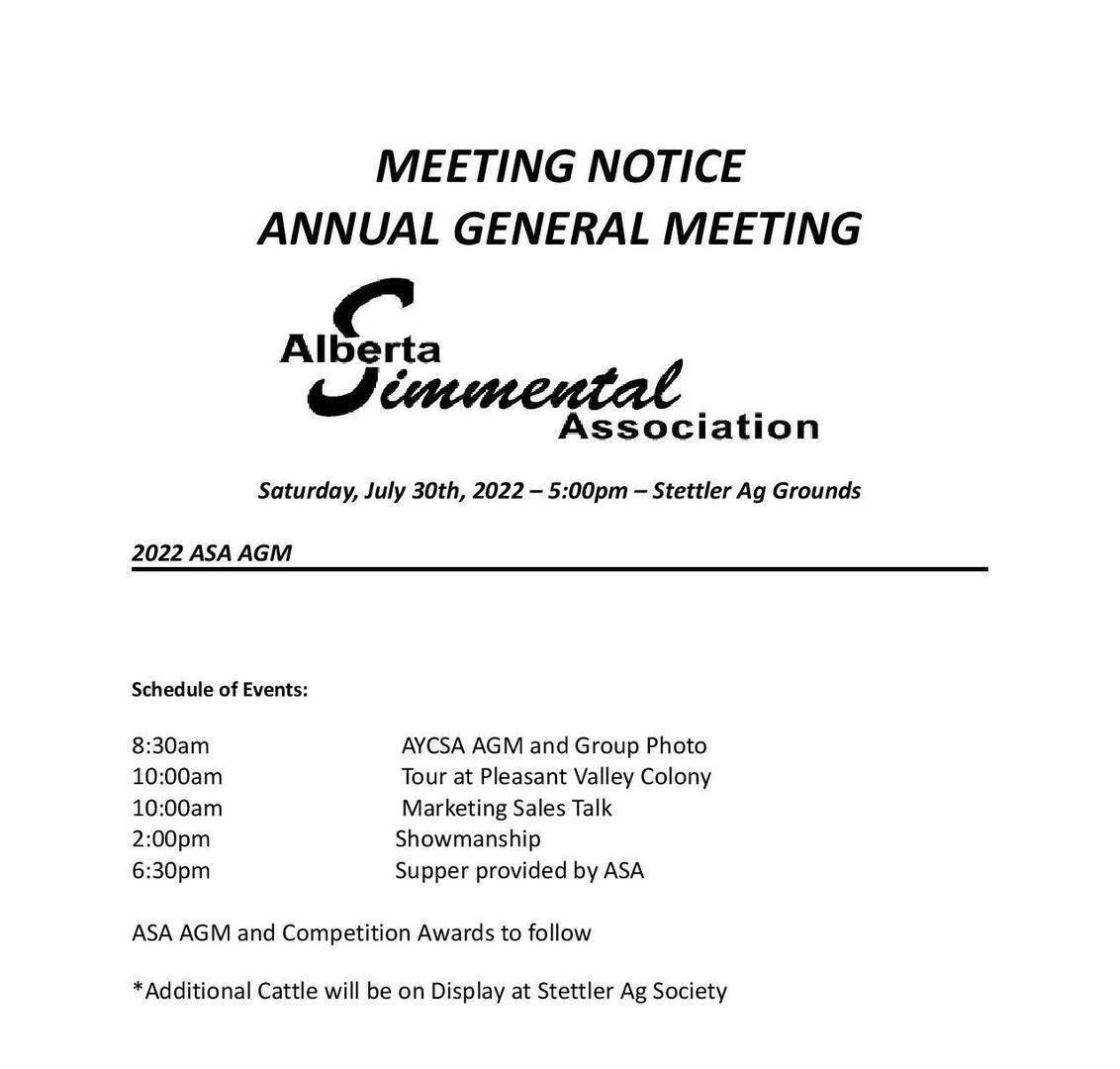 2022 ASA AGM
Saturday, July 30th, 2022 - 5:00pm - Stettler Ag Grounds

Schedule of Events:
8:30 AYCSA AGM and Group Photo
10:00am Tour at Pleasant Valley Colony
10:00am Marketing Sales Talk
2:00 Showmanship
6:30pm Supper provided by ASA
4-H INFORMATION
4-H BREED AWARDS APPLICATIONS:
NEW FOR THIS YEAR!
> If a Simmental Project wins Club Champion, please submit their info to us by July 1, 2019 for them to be entered in a draw for an additional prize!
Mail or email your application to Katie Deeg.
NEEDED FOR APPLICATION:
Leaders need to provide as much contact info. as possible including email, phone, mail and names of kids with Simmental projects. The applications can be sent in a soon as weigh-in in October.